Ah, the Windy City.
It honestly wasn't that windy while I was there, but hey–it was the end of July. It was more sticky and humid than anything else, actually. But that's neither here nor there… what's important here is food, people, the food!! BTW, I was in Chicago to attend Sage Summit, you can read all about that here.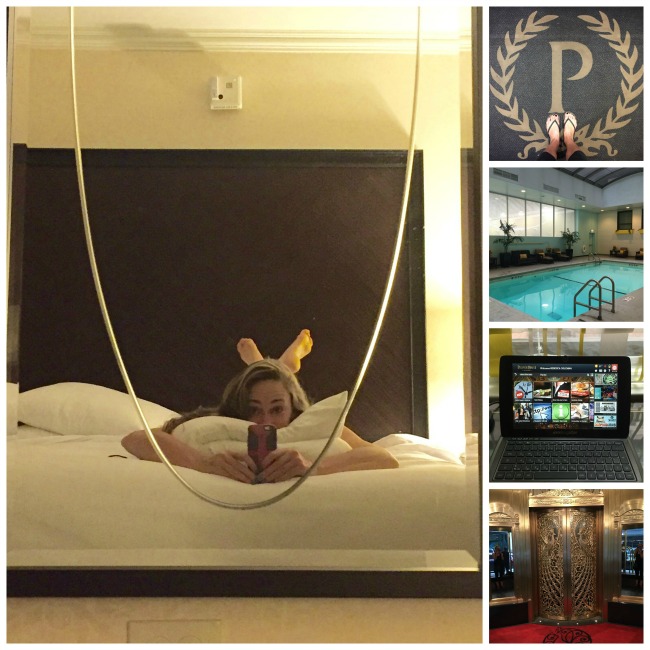 I first just have to shout out the amazing hotel I stayed at. If there's one thing I love, it's history and vintage, and Chicago is a town with some fantastic history and architecture. The Hilton Palmer House Hotel, where I stayed, was built 150 years ago, and it still has that elegant, old-Hollywood feeling. It was one of those hotels that managed to do everything right. Keep the old-school, retro feeling, but still not appear to be dated. It was gorgeous–touches of gold everywhere you looked, and the lounge! The pool might have been my favorite, though.
I mention the Palmer House not just because it was a fantastic experience to stay there, but also because of its location. Right downtown, in the heart of the city, just two blocks from Millennial Park. One of the advantages of staying here was that it gave me the ability to see tons of cool stuff all within an easy walking distance, like museums, art galleries, the park, and the Riverwalk, not to mention shops and restaurants, and just a block from the train station to O'Hare.
Okay. What I ate in Chicago.
Chicago Steakhouse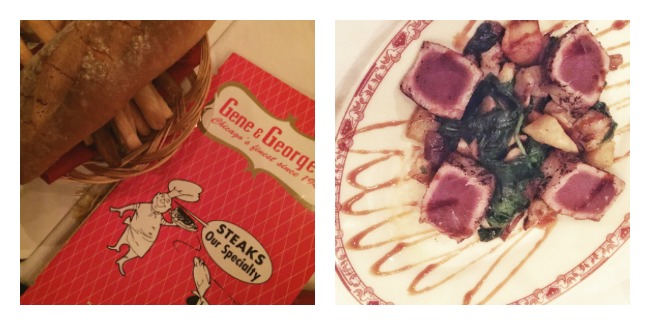 One of my first meals in Chicago was at Gene and Georgetti, one of Chicago's oldest steakhouses. Now, I don't eat a lot of steak, but they did have vegetarian and seafood options, so I was good. This place is super old-school. It's kind of dark, and the waiters are all men in white coats. It goes on and on, as well. There are rooms upon rooms, dark paneling, books on the walls, hunting-lodge, man-cave style. Very masculine. I had these sauteed mushrooms that were so good, and a lightly-seared tuna salad. If you eat meat, though, you really should order one of their humongous steaks.
Coffee
I have to talk about coffee. I love Peet's. And there was one just a block or two from my hotel. I was a very happy girl.
Baking
I was so happy to stumble across the Magnolia Bakery. This place reminded me so much of our own Butter Baked Goods. It had that charming 1950's kinda vibe, and behind the counter, it was packed with gals making cookies, cakes, and pies. This was one place I would love to go back to again.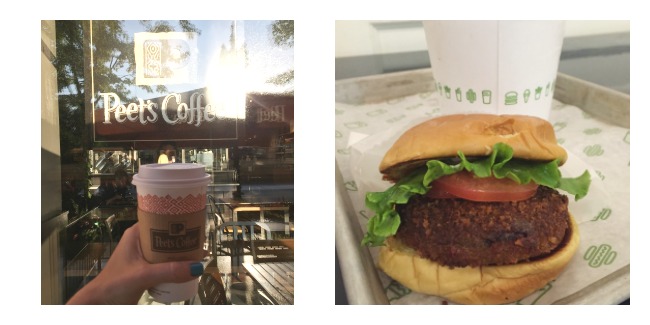 Burgers
I've been trying out the veggie burgers at a ton of local burger joints here in Vancouver lately; 5 Guys, Relish, Mooyah, and the newly-opened CaliBurger. The CaliBurger one was my fave–it's a deep-friend portobello mushroom. I hit the Shake Shake just around the corner from our hotel with Liz and Adrian one night, and their veggie burger was similar. So good. Also, the salted caramel milkshake, as one might expect from a place called "The Shake Shack" was off the chain.
Donuts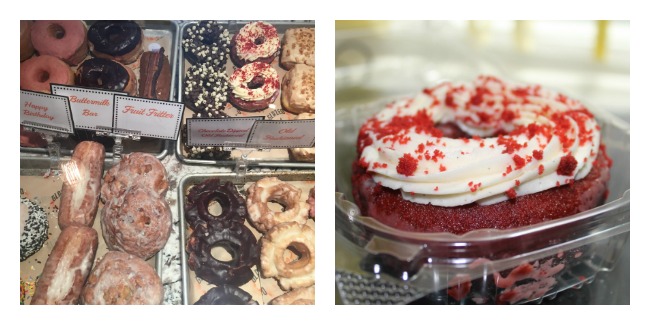 There are lots of artisan donuts in Chicago, but possibly the most famous one is Glazed and Infused (best name for a donut shop ever, right?). It's tiny, tucked away inside a restaurant inside a hotel, but holy smokes! The donuts! They had one that was a long john with an entire strip of bacon on it. I had a red velvet, with cream cheese icing…
Healthy stuff
Thankfully, I had a row of healthy fast-food places just around the corner from my hotel. The Protein Bar served up the most delicious avocado-matcha smoothie I've ever had (I'm working on getting you the recipe), and they also served Bulletproof Coffee, if that's your thing.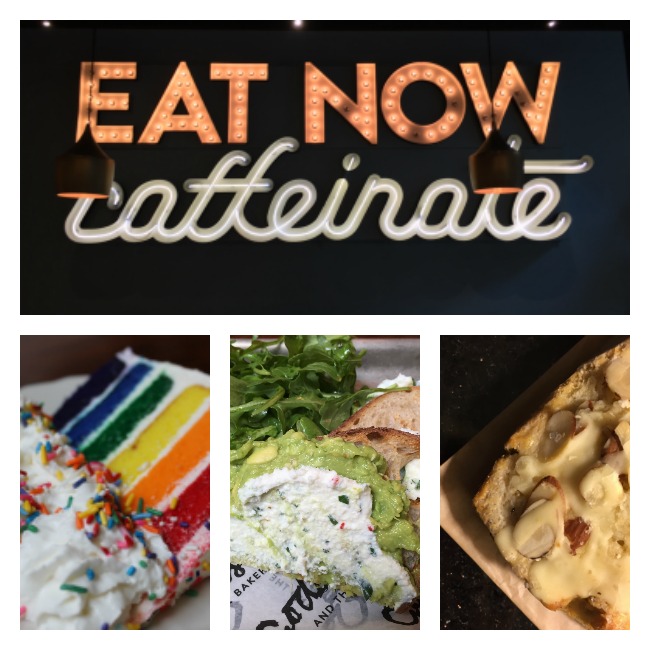 Right beside it was the place I ended up at the most; The Goddess and the Baker. Here, you could grab coffee, home-baked goods, juices, and other lovelies like Avocado toast.
Eataly: my version of heaven
The pinnacle of my food experience in Chicago was, hands-down, Eataly. Eataly is Mario Batali's two-story grocery/ wine/ charcuterie/ creperie/ restaurant. It is literally foodie heaven. They had counters with more charcuterie and cheese options than I think I've ever seen in my life, fresh produce, wines, a gelato bar, a coffee bar with desserts and sandwiches, several restaurants, and all the Italian food and the stuff to cook it with you can possibly imagine. If you are in Chicago, do not miss going here. And when I die, this is where I want to go. It was seriously my version of heaven. I went there three times in less than 24 hours, and I would have gone back if I had more time!
Yep, beyond a doubt, Chicago is a town of great eats, and I only had time to scratch the surface. I didn't even get a chance to eat deep-dish pizza! A return trip is definitely in order…
Save
Save