Truthfully, I've been having way too much fun in the kitchen these days. I've just been really needing to unleash a little creativity and have fun. I've been feeling the need to lighten things up, and that's exactly what I've been doing.
Earlier, I made these Sparkly Rainbow Unicorn Poop cookies for a little girl's birthday. You could easily make them vegan by using the same method, but subbing in a vegan sugar cookie recipe, like this great one from The Minimalist Baker.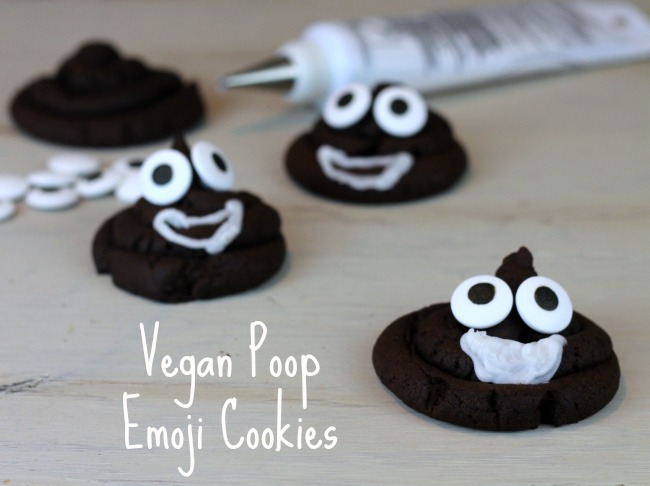 I've tried a bunch of different ways to make edible poop emoji (or you may know them as 💩) using aquafaba, but I've yet to get them exactly right.
So I decided to ditch the idea of making them from meringue and instead modify a sugar cookie recipe with chocolate to make them brown.
Okay, but you might be asking, "Bex, why on earth would you want to eat poop?"
Well, it's all just for fun, right? It's whimsical, people, where's your sense of whimsy???
Plus, c'mon, how fun would these be to make with your kids? They are a lot like playdough, actually, there's a lot of fun to be had here, rolling, forming and shaping.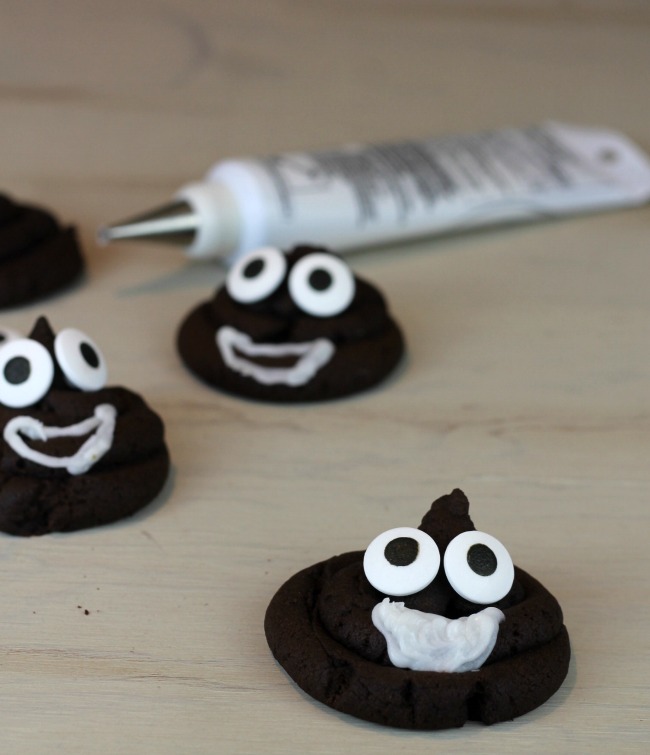 Poop Emoji #Vegan 💩
Ingredients
1/2 cup vegan butter
1/4 cup granulated sugar
1/2 cup icing sugar
1 teaspoon vanilla
2 tablespoons aquafaba
2 tablespoons vegan milk
1/4 cup cocoa powder
1/2 teaspoon baking soda
1 1/4 cups flour
edible candy eyes (double check the ingredients to ensure they are vegan)
White icing (again, check ingredients–or use homemade)
Method
In the bowl of your stand mixer, place the butter and sugars. Cream well on medium speed until they are smooth. Add the vanilla, aquafaba and vegan milk, and cream together until smooth.
Remove the bowl and sift the cocoa powder over it. Fold in the cocoa powder. Add the baking soda and mix, and then, with the mixer running at the lowest speed, carefully add the flour in batches until it's all combined. Remove the bowl and scrape the sides down with a spatula, then fold everything together one more time to ensure that it's all evenly mixed.
Place the bowl in the fridge to set for about an hour.
Remove the bowl from the fridge, and pull off about 1/4 cup blob of the dough. Form it into a log, and roll it out so that it's about 3/4″ thick, and about 6′-7″ long.
On your cookie sheet, form the log into a circle, about 2-3″ in diameter, the pile the rest of the "rope" in a circle on top of it, going around and around like a snake. You want to build a fairly thin, tall "poop," it should have about 4 layers. At this point, if your dough has gotten warm, you may want to place the formed cookies in the fridge for a while.
Bake in a preheated 350 degree oven for about 10-12 minutes.
Allow to cool on the pan for a few minutes, then remove to a wire rack to cool completely.
Once the cookies are cool, "glue" the eyes on using dabs of icing, and then draw on the smiley mouth.
Save
Save