This is a story about beer.
A little over a week ago, early in the morning, my buzzer rang. Now, as a food blogger, it's pretty normal for me to get deliveries. Sometimes I know they are coming, sometimes I don't. This particular morning I was not expecting a delivery, so I was curious to see what was coming around the corner.
There was the sound of clanking glass… and my eyes got really, really wide when I saw the delivery man.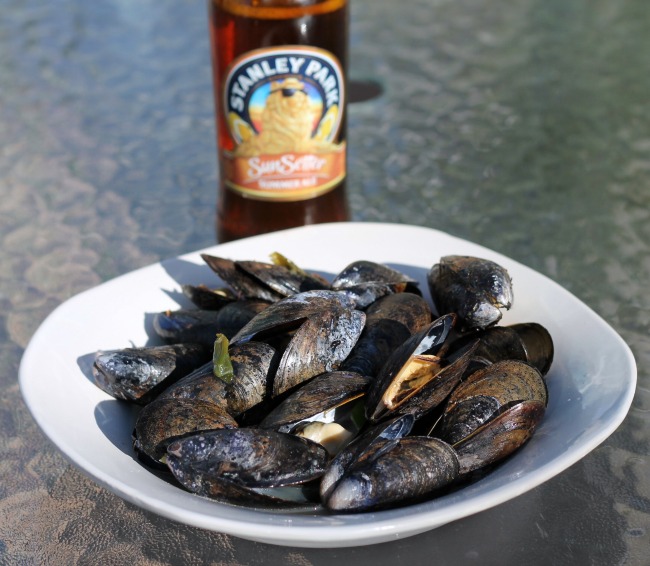 He was carrying 2 huge cases of beer.
My friend Raj has recently been crafting some Instagram posts for the nice folks at Stanley Park Brewing, and last month asked if I could come along to be a "beer hand model." One of the things I love about my life and work is that it allows me the flexibility to say yes to stuff like that, and so of course I did. We had a blast, and got some quality hang out time to boot, which is rare for the two of us in real life.
It was something I did for a friend, but it turns out, I got paid in beer. it could be worse, right? Much, much worse.
I stared at those cases of beer in my kitchen and thought, yeah, I could hoard them and drink them all myself. Or I could share the wealth. So I got on Facebook and invited some people over.
There are so many good things going on in my life right now, I feel so grateful and happy. There's much to celebrate, including the beginning of summer, my favourite time of the year.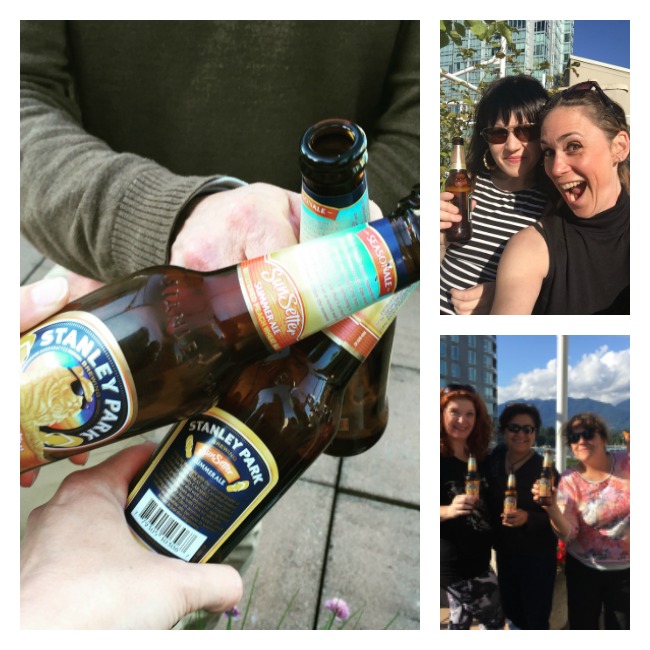 So, Sunday night, a group of my friends gathered on the roof of my building and helped me drink beer. Because those are the kinds of friends I have–self-sacrificing and unselfish. 😉
I should say for the record that I'm not generally a huge beer drinker. I tend towards wine or cocktails or cider. But the summer ale, SunSetter, from Stanely Park Brewing is very tasty and an incredibly easy summer-lovin' beer. It has overtones of peaches and is just alltogether refreshing and light. It will have a place in my fridge this summer. Everyone at the party loved it, as well.
Yes–back to the party. It's irresponsible to just serve beer at a party, right? You need to provide your guests with food as well. I decided to make beer steamed mussels. This is partly because every time I go to Costco I want to buy mussels. They are only $12 for 2 giant containers, but I can't eat that many by myself, so having some people over to help me eat them was perfect. And steaming them in beer?? Even more perfect.
These were amazing. I can't wait to make them again. So simple and easy, but the mussels are juicy and plump and you will want lots of toast to sop up the juices. I also think they tasted better because we cooked and ate them outdoors.
Happy Summer, everyone! I hope my beer-themed summer kickoff party inspires you to do something similar. Let's celebrate!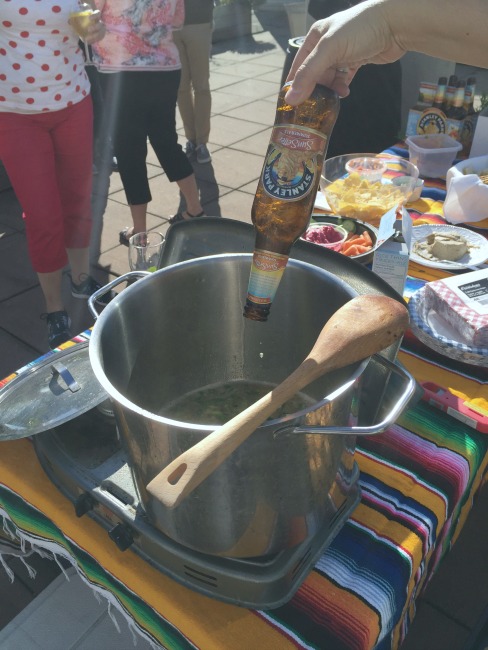 Beer Steamed Mussels
Ingredients:
2 x 2.72kg of mussels
1 onion, sliced
3 cloves garlic, minced
2 tbsp butter
2 tbsp olive oil
2 bottles SunSetter Summer Ale (or some other light beer–a wheat beer or a hefeweizen would be perfect)
fresh herbs to finish: chives or green onions or flat leaf parsley, chopped roughly
Method:
Wash the mussels well, and pick through them, discarding any that are open or broken.
In a very large pot, melt the butter and olive oil over medium heat, and then add the onions. Cook for about 5 minutes, or until softened. Add the garlic and stir well.
Add the beer and bring the temperature up to the boil.
Now add in all the mussels. Put the lid on and allow to steam for about 10 minutes.
You'll know the mussels are done when they are open.
Sprinkle with fresh herbs, and serve in bowls with crusty bread.
A very special thank-you to Stanley Park Brewing for supplying my party with awesome beer!