I love Mad Men. I love it because it's about marketing and advertising, and I love it for the incredibly interesting characters, their quips and one-liners, but mostly, I love it for the clothes.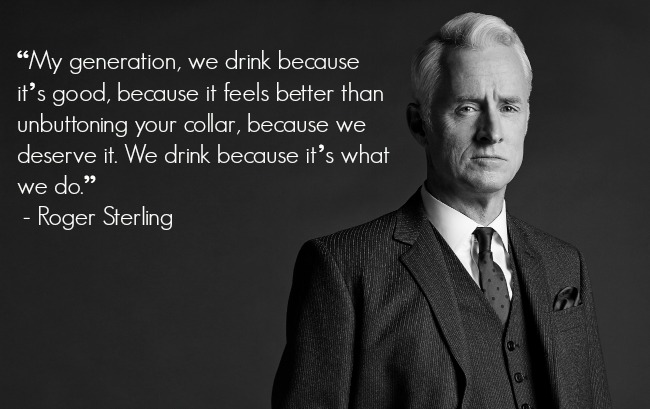 This season, the final one, has entered the '70's, but when it first went to air, it was set in the '50's. I'm nostalgic about the '50's. Not because I was alive back then, but because there's something about that time that felt more innocent, simpler, wholesome. It was a time when housewives ruled the home, when you got dressed up to go out to dinner, and before the world became all about packaged and processed food. Life was slower. Simpler. Pot roast or roast chicken on Sunday was a normal thing.
I feel like today, we are swinging back towards that era. We're feeling done with the fast food movement, and are moving back to slow food. To quality ingredients that might cost a bit more, but are worth it. To locally sourced. To artisan food and craft cocktails.
Here in Vancouver, if you want to play dress-up and go back in time to the Mad Men era, you need to go to Hy's Steakhouse.
Hy's has been in business at the same location on Hornby St for 52 years. It is old school. You enter the restaurant through a set of double doors, into a foyer, and then through another set of doors into the lounge. That foyer is actually some kind of magic time machine, because the moment you set food through that second set of doors, you are magically transported back in time 50 years.
Everything here is dark grandeur. There is dark wood paneling on the walls, and tons of warm leather and marble. The chairs are upholstered in burgundy velvet. The doorways and lamp sconces are garnished with curlicues. The tables wear crisp, white tablecloths, the napkins are monogrammed, and all the servers wear white jackets. Even the artwork is of the era.
The menu is classic NY Steakhouse, with a great deal of the menu being table side. You can get dinner and a show here. Your steak is prepared over a charcoal grill, and you can watch the chef do it, as he's in the middle of the room, behind a pane of glass. Many of the dishes, like the caesar salad, or the Steak Diane,  are prepared or carved table side.
But if you want the full Mad Men experience, you need to go during Happy Hour. Between 4 and 6 pm, you can get a Mad Men inspired drink, and some '50's inspired appies.
The cocktails are $8, and they include: the Don Draper Old Fashioned: Canadian Club rye whiskey, Angostura bitters, Amarena cherry, the Roger Sterling Gibson Martini: Russian Standard vodka, onions or olives, the Joan Holloway Bloody Mary: Russian Standard vodka, tomato juice, roasted garlic, the Betty Draper Gimlet: Russian Standard vodka, fresh pressed lime, and the Peggy Olson Manhattan: Makers Mark bourbon, bitters, vermouth.
Which do you choose? Your favourite character, or your favourite drink?
Appies are $2.50 each (which is probably how much they cost in 1950), and include: a jumbo shrimp cocktail (so elegant and refined and clean), fresh oysters with horseradish, red wine mignonette, fresh lemon and cocktail sauce, bacon-wrapped scallops, devilled eggs, and Oysters Rockefeller. The best of this bunch was the Oysters Rockefeller. The oysters are shucked, then lightly cooked, returned to their shells with some creamed spinach, and then topped with hollandaise and browned. They are rich and creamy and super indulgent, and something you'd never likely make at home. The ultimate treat with your Old Fashioned or your Gimlet.
I had no idea such a place even existed in Vancouver. What a pleasant discovery. Now, who wants to dress up and go for cocktails?